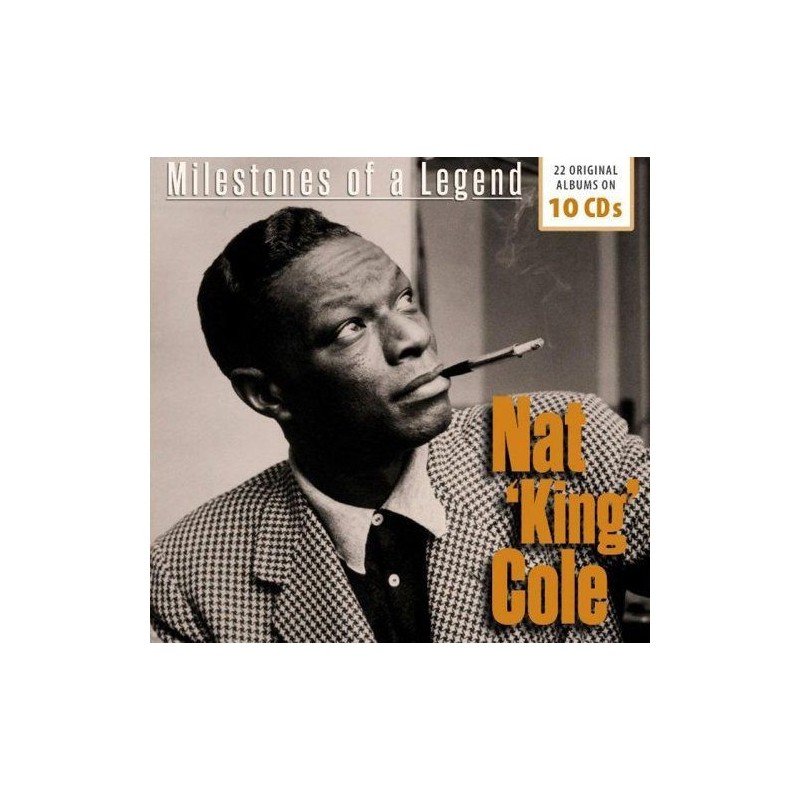  
NAT KING COLE - MILESTONES OF A LEGEND (PACK 10CD)
NAT KING COLE - MILESTONES OF A LEGEND  (PACK 10CD)

Discos B.P.M. se compromete a preservar la privacidad de todos sus usuarios, visitantes o clientes, obligándose a mantener la confidencialidad de sus datos.

En el caso de CDS, DVDS, películas, etc. y otros soportes que por su condición sean susceptibles de ser copiados, siempre se cambiará por el mismo titulo en los casos de defectos de fabricación
Disco: 1
  1. Straighten Up and Fly Right
  2. You Call It Madness (But I Call It Love)
  3. (Get Your Kicks On) Route 66
  4. Lush Life
  5. Kee-Mo Ky-Mo (The Magic Song)
  6. Gee Baby, Ain't I Good To You
  7. The Frim Fram Sauce
  8. Nature Boy
  9. Unforgettable
  10. Portrait of Jennie
  11. What'll I Do
  12. Lost April
  13. Answer Me, My Love
  14. Hajji Baba
  15. Too Young
  16. Mona Lisa
  17. (I Love You) For Sentimental Reasons
  18. Red Sails in the Sunset
  19. Pretend
  20. Make Her Mine
  21. Love Is Here To Stay
  22. A Handful of Stars
  23. This Can't Be Love
  24. A Little Street Where Old Friends Meet
  25. There Goes My Heart
  26. Dinner for One Please, James
Disco: 2
  1. Almost Like Being In Love
  2. Tenderly
  3. Somewhere Along the Way
  4. Walkin' My Baby Back Home
  5. Faith Can Move Mountains
  6. Funny (Not Much)
  7. Because You're Mine
  8. I'm Never Satisfied
  9. The Ruby and the Pearl
  10. A Weaver of Dreams
  11. Penthouse Serenade (When We're Alone)
  12. Somebody Loves Me
  13. Laura
  14. Once In a Blue Moon (Based On Rubinstein's Melody in F)
  15. Polka Dots and Moonbeams
  16. Down by the Old Millstream
  17. If I Should Lose You
  18. Rose Room
  19. Dream a Little Dream of Me
  20. There I've Said It Again
  21. Lulubelle
  22. I'm an Errand Boy for Rhythm
  23. Too Soon
  24. Rough Ridin'
  25. The Story of My Wife
  26. Sleeping Beauty
Disco: 3
  1. Love Walked In
  2. My Heart Stood Still
  3. Imagination
  4. I Never Knew
  5. Stella by Starlight
  6. What Can I Say After I Say I'm Sorry
  7. I Didn't Know What Time It Was
  8. Taking a Chance on Love
  9. April in Paris
  10. I Want To Be Happy
  11. I See Your Face before Me
  12. Just One of Those Things
  13. I Get a Kick Out Of You
  14. If I Could Be With You (One Hour Tonight)
  15. I Hear Music
  16. Tea for Two
  17. A Blossom Fell
  18. Unbelievable
  19. Blue Gardenia
  20. Angel Eyes
  21. It Happens To Be Me
  22. Smile
  23. Darling, Je Vous Aime Beaucoup
  24. Alone Too Long
  25. My One Sin (In Life)
  26. Return to Paradise
  27. If Love Is Good To Me
  28. The Sand and the Sea
Disco: 4
  1. When I Fall In Love
  2. Stardust
  3. Stay As Sweet As You Are
  4. Where Can I Go Without You
  5. Maybe It's Because I Love You Too Much
  6. Love Letters
  7. Ain't Misbehavin'
  8. I Thought About Marie
  9. At Last
  10. It's All In the Game
  11. When Sunny Gets Blue
  12. Love Is the Thing
  13. When Your Lover Has Gone
  14. A Cottage for Sale
  15. Who's Sorry Now
  16. Once In a While
  17. These Foolish Things
  18. Just For the Fun of It
  19. Don't Get Around Much Anymore
  20. I Understand
  21. Just One of Those Things
  22. The Song Is Ended (But the Melody Lingers On)
  23. I Should Care
  24. The Party's over
Disco: 5
  1. Overture Love Theme/Hesitating Blues
  2. Harlem Blues
  3. Chantez Les Bas
  4. Friendless Blues
  5. Stay
  6. Joe Turner's Blues
  7. Beale Street Blues
  8. Careless Love
  9. Morning Star
  10. Memphis Blues
  11. Yellow Dog Blues
  12. St. Louis Blues
  13. To Whom It May Concern
  14. Love-Wise
  15. Too Much
  16. In the Heart Of Jane Doe
  17. A Thousand Thoughts of You
  18. You're Bringing Out the Dreamer in Me
  19. My Heart's Treasure
  20. If You Said No
  21. Can't Help It
  22. Lovesville
  23. Unfair
  24. This Morning It Was Summer
Disco: 6
  1. Welcome to the Club
  2. Anytime, Anyday, Anywhere
  3. The Blues Don't Care
  4. Mood Indigo
  5. Baby Won't You Please Come Home
  6. The Late Late Show
  7. Avalon
  8. She's Funny That Way
  9. I Want a Little Girl
  10. Wee Baby Blues
  11. Look Out For Love
  12. Ay, Cosita Linda)
  13. Aquellos Ochos Verde
  14. Suas Maos
  15. Capullito De Aleli
  16. Caboclo Do Rio
  17. Fantastico
  18. Nadie Me Ama
  19. Yo Vendo Unos Ojos Negros
  20. Perfidia
  21. El Choclo
  22. Ansiedad
  23. Nao Tenho Lagrimas
Disco: 7
  1. Every Time I Feel the Spirit
  2. I Want To Be Ready
  3. Sweet Hour of Prayer
  4. Ain't Gonna Study War No More
  5. I Found the Answer
  6. Standin' In the Need Of Prayer
  7. Oh Mary Don't You Weep
  8. Go down Moses
  9. Nobody Knows the Trouble I've Seen
  10. In the Sweet By and By
  11. I Couldn't Hear Nobody Pray
  12. Steal Away
  13. Tell Me All about Yourself
  14. Until the Real Thing Comes Along
  15. The Best Thing for You
  16. When You Walked By
  17. Crazy She Calls Me
  18. You've Got the Indian Sign on Me
  19. For You
  20. Dedicated To You
  21. You Are My Love
  22. This Is Always
  23. My Life
  24. (I Would Do) Anything for You
Disco: 8
  1. The Touch of Your Lips
  2. I Remember You
  3. Illusion
  4. You're Mine, You
  5. Funny
  6. Poinciana (Song of the Tree)
  7. Sunday, Monday or Always
  8. Not So Long Ago
  9. A Nightingale Sang In Berkeley Square
  10. Only Forever
  11. My Need for You
  12. Lights Out
  13. Dear Lonely Hearts
  14. Miss You
  15. Why Should I Cry Over You
  16. Near You
  17. Yearning (Just For You)
  18. My First and Only Lover
  19. All Over the World
  20. Oh, How I Miss You Tonight
  21. Lonesome and Sorry
  22. All by Myself
  23. Who's Next In Line
  24. It's a Lonesome Old Town (When You're Not Around)
Disco: 9
  1. September Song
  2. Pick yourself up
  3. I Got It Bad and That Ain't Good
  4. Let There Be Love
  5. Azure-Te
  6. Lost April
  7. (The End of) A Beautiful Friendship
  8. Fly Me to the Moon (In Other Words)
  9. Serenata
  10. I'm Lost
  11. There's a Lull in My Life
  12. Don't Go
  13. Ramblin' Rose
  14. Wolverton Mountain
  15. Twilight on the Trail
  16. I Don't Want It That Way
  17. He'll Have To Go
  18. When You're Smiling
  19. Goodnight Irene, Goodnight
  20. Your Cheatin' Heart
  21. One Has My Name the Other Has My Heart
  22. Skip to My Lou
  23. The Good Times
  24. Sing another Song (And We'll All Go Home)
Disco: 10
  1. Cachito
  2. Maria Elena
  3. Quizas, Quizas, Quizas (Perhaps, Perhaps, Perhaps)
  4. Las Mananitas
  5. Acercate Mas (Come Closer To Me)
  6. El Bodeguero (Grocer's Cha-Cha)
  7. Arrividerci Roma (Goodbye to Rome)
  8. Noche De Ronda
  9. Tu, Mi Delirio
  10. Te Quiero, Dijiste (Magic Is the Moonlight)
  11. Adelita
  12. La Feria De Las Flores
  13. Tres Palabras (Without You)
  14. Las Chiapanekas (While There's Music There's Romance)
  15. Adios Marquita Linda (Adios Farewell, My Lover)
  16. Aqui Se Habla En Amor (Love Is Spoken Here)
  17. Vaya Con Dios
  18. La Golondrina (The Swallow)
  19. No Me Platiques
  20. A Media Luz (When the Lights Are Soft and Low)
  21. Guadalajara
  22. Solamente Una Vez (You Belong To My Heart)
  23. Piel Canela
También podría interesarle
2 otros productos en la misma categoría:
Related products
No related products at this time.